The ordered Goods are sent to the address indicated in the Order Form. The Client shall be forthwith informed about the improperly filled in Order Form, which prevents the dispatch of goods or which can delay it.
The Seller shall allow the Client to use the following methods of delivery in Poland and other countires:
By courier ( Poland ) 
Delivery to Paczkomat InPost ( Poland )
International shipping  by courier ( selected countries in Europe)
International registered post letter or post package( Europe, Russia, Israel )
3. The total time from order to delivery shall be 5 days at the maximum - from the day of the Order placement by the Client; however, the On-line Store shall make its best efforts to complete Orders as soon as possible.
4. Costs of the delivery are charged upon the Client in Poland:
Shipping by courier - to 30 kg – 13,50 PLN; orders above 99 PLN - 5 PLN; orders above 295 PLN - 0 PLN
Delivery to Paczkomat InPost - to 5 kg - 9,90 PLN orders above 99 PLN - 5 PLN; orders above 295 PLN - 0 PLN
       5. International delivery by GLS up to max. 30 kg one parcel.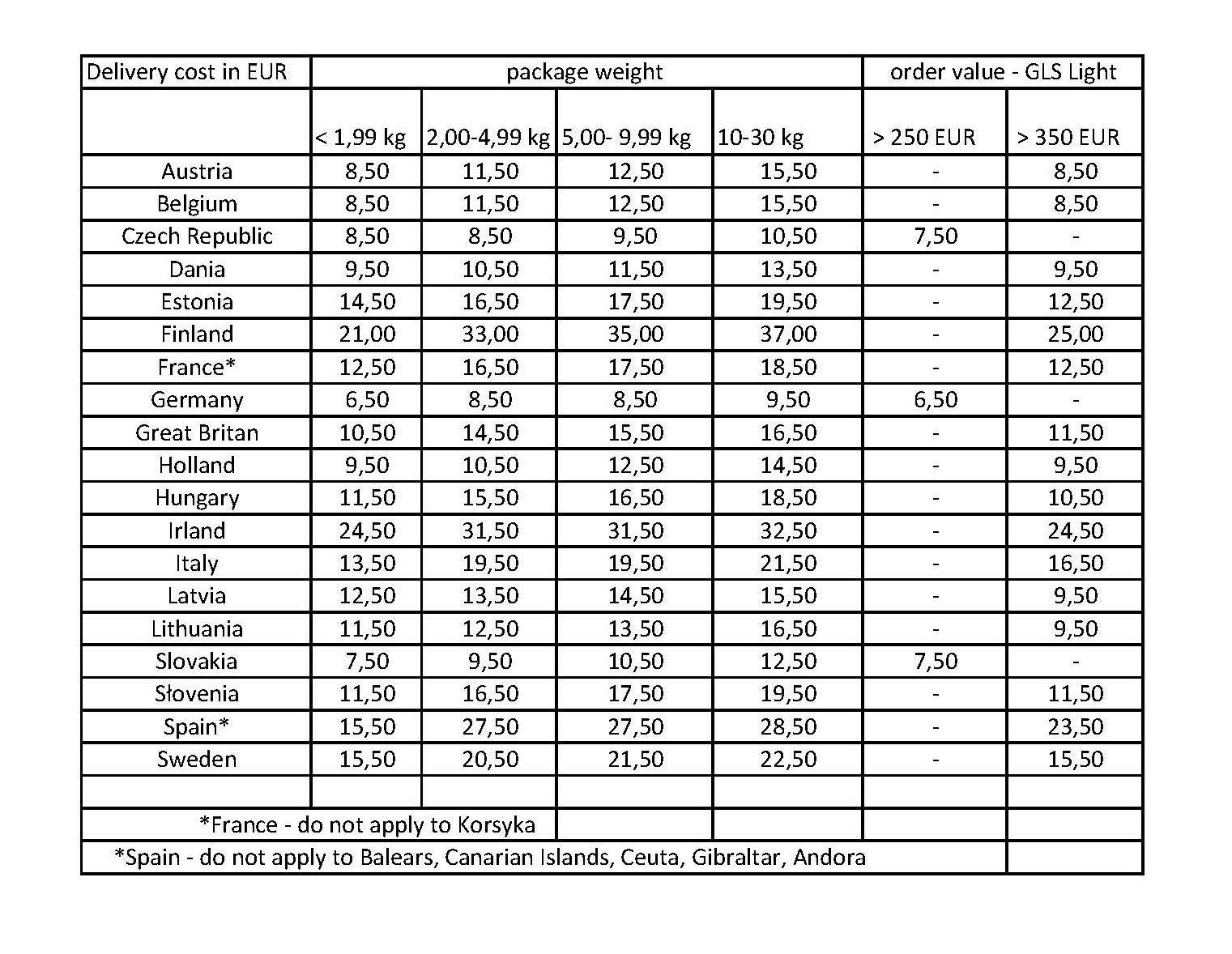 7. Delivery on the territory Polish to the Client takes 2 working days, unless the on-line description of a given item of         Goods indicates another delivery date.
8. Each package of dispatched Goods is insured up to its full value.
9. Upon delivery, the Client shall check, in the presence of the courier, whether the packaging shows any signs of prior opening or signs of any damage. Should the Client find that the package with Goods has been opened prior to delivery or that the Goods have been damaged, the Client shall draw up, together with the courier, a damage report and forthwith inform the Seller about it.
10. The On-line Store does not cover the customs duties. Should the destination of the Order delivery be outside the borders of the EU member states, the Client shall be obliged to bear the customs duties. All issues related to customs duties are to be solved by the Buyer. Precise information as regards the amount of the payable duties can be found by the Client on the integrated Tariff of the European Union website (TARIC), where the information on currently applicable rates is available under the following address: http://ec.europa.eu/taxation_customs/dds2/ taric/taric_consultation.jsp?Lang=en