Polish: 
Ostatnio postawiłam sobie wiele trudnych zadań do wykonania.
Aby trochę odpocząć i skupić się na swoich potrzebach, postanowiłam uszyć sobie prostą kosmetyczkę do torebki.
Wszystkie kobiety takiej potrzebują, na kosmetyki, na klucze, na wszelkie przewracające się w torbie drobiazgi.
Jeśli chodzi o materiał, mój wybór padł na odkryty niedawno Washable Kraft Paper. Świetny wodoodporny papier, którym można nie tylko wykańczać i wzmacniać wloty kieszeni, otwory na troczki przy bluzach, ale również można z niego po prostu uszyć torby, portfele, i wiele innych dodatków. Zaletą tego materiału jest to, że możemy go normalnie prać w pralce. Właściwości ma podobne do naturalnej skóry, potocznie bywa nawet nazywany skórą dla wegan.
Do wykonania mojej kosmetyczki wybrałam delikatnie szary odcień papieru i turkusowo, niebieskie dodatki. Nie chciałam, za bardzo komplikować całego procesu, dlatego zdecydowałam się nie wszywać w kosmetyczkę podszewki. Uznajmy, że jest to kosmetyczka, dla początkujących, wszywanie podszewki poćwiczymy przy innym projekcie :)
Na wierzchu wyszyłam tak modne ostatnio wielokąty układające się w kształt serca.
Grafikę do wyszycia serca, na swoich pracach, możecie pobrać tutaj.
Miło mi będzie jak będziecie się nią dzielić, odsyłając wszystkich zainteresowanych do mojego bloga.
Teraz jednak po kolei co i jak trzeba zrobić, aby uszyć taką kosmetyczkę.
English:
Recently I have a lot of difficult tasks to do.
To relax, and a little bit focus on my needs, I decided to sew a simple cosmetic bag.
I belive that all women needs something like that, for keys, any bag trinkets.
As for the material, my choice fell on a recently discovered Washable Kraft Paper. Great waterproof paper, which you can not only finish your sewing things, strengthen inlets of pocket, holes on the straps in blouses and sweatshirt, but also it can use to sew bags, wallets, and many other things. The advantage of this material is that it can normally be washed in the washing machine. It similar to natural leather, sometimes it even called a leather for vegans.
I chose light gray shade of paper turquoise and blue accessories. I did not want too much complicate the whole process, so I decided not to sew the lining. Let us recognize that it is a vanity bag, for beginners. :)
On top I sewed fashionable polygons heart shape.
Graphics to sew that heart, you can download here.
I'm glad to be like it and share it, by link to my Miekkie blog.
Now, few tip how to sew vanity bag from Washable Kraft Paper, and what you need to know when you sewing that kind of material.
1. Co będziemy potrzebować i na co zwrócić uwagę / What we need and what to look for.:
Washable Kraft Paper ok.21 cm x 42 cm
maty do cięcia / cutting mat
nożyczek / scissors
linijki / ruler
tępe narzędzie do bigowania / blunt tool for creasing
nici w wybranych kolorach / threads in a selected color
suwaka długości 18 cm / zipper length of 18 cm
drukarki do wydrukowania wzoru do wyszycia / printer to print the pattern for sewing
UWAGA! ATTENTION!
Szycie Washable Kraft Paper, jest podobne do szycia skóry. Musisz pamiętać, że pracę należy zaplanować precyzyjnie, a szyć należy powoli i dokładnie. Jeśli coś źle przeszyjesz, to tak jak przy szyciu naturalnej skóry, na powierzchni papieru zostaną otwory po igle, których nie da się usunąć. Efekt koncowy potrafi wynagrodzić jednak, wszelkie niedogodności. :)
Sewing Washable Kraft Paper is similar to sewing leather. You must remember that the work should be planned carefully and sew slowly. If something bad pierce, it's like when you sewing the natural skin on the surface of the paper will be the stitching holes, which can not be removed. The end result can compensate, any inconvenience. :)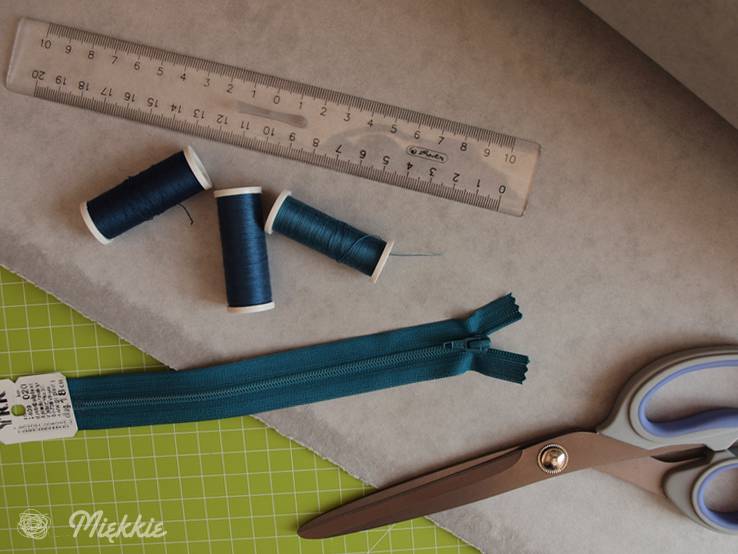 2. Na początku przygotuj papier. Dokładnie go pognieć. Nabierze wówczas plastyczności, a efekt jaki uzyskacie na powierzchni papieru będzie bardziej przypominał zagniecenia na naturalnej skórze. / First set up the paper. You have to wrinkling it. It will be more plasticity, and the effect on the surface of the paper will be more like the natural leather.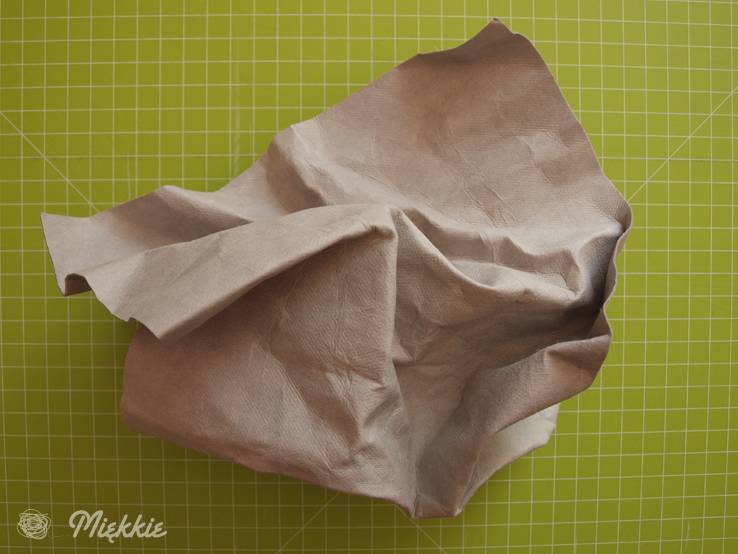 3. Na obu krótszych bokach kawałka papieru odznacz po 1 cm zapasu. Delikatnie przebiguj i zagneić papier. To będzie miejsce gdzie wszyjemy potem zamek. / On both shorter sides of a piece of paper, mark the 1 cm. Gently creasing it. That will be a place where we sew the zipper.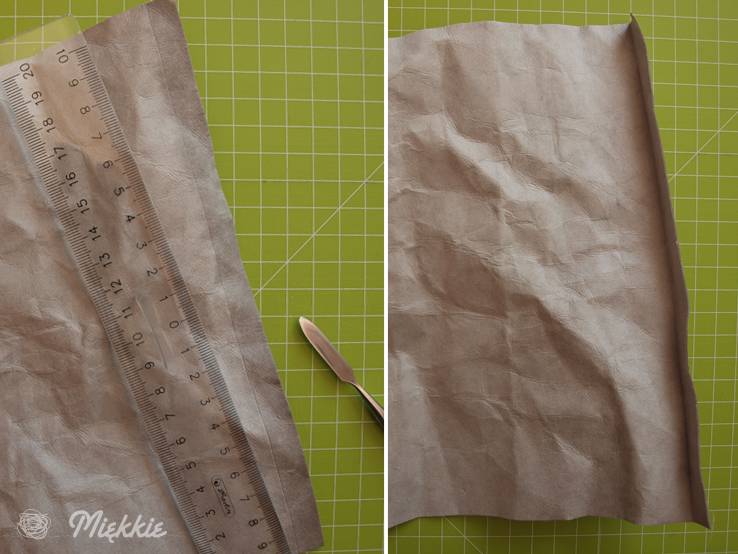 4. Złóż papier na pół krótkimi bokami do siebie. Zepnij krótsze boki klipsem, aby się nie przesuwały. Wybierz miejsce gdzie chcesz przenieść rysunek serca do późniejszego wyszycia. / Fold the paper in half, the short sides together. Bundle the shorter sides of the clip, to not moved together. Select place, where you want to move drawing a heart for later sewing.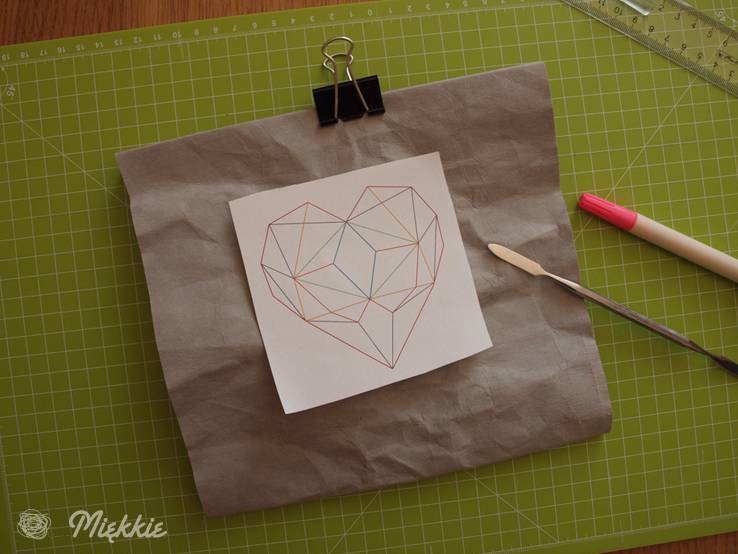 5. Tępym narzędziem, dokładnie, lekko dociskając przerysuj rysunek. Na powierzchni papieru powinien zostać odcisk, ślad. / Blunt tool, carefully, gently pressing redraw figure for paper. On the surface of the paper should be appear a line.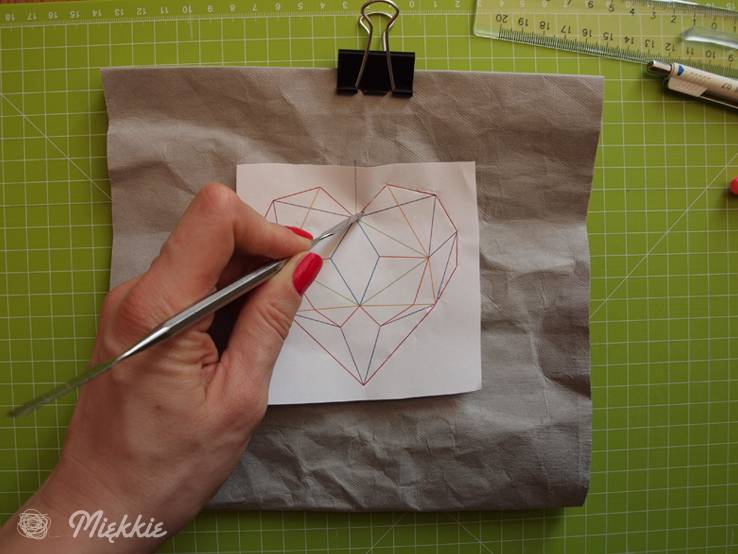 6. Powstałe linie popraw delikatnie ołówkiem, lub flamastrem do tkanin. / The lines of improvement gently with a pencil or fabric pen.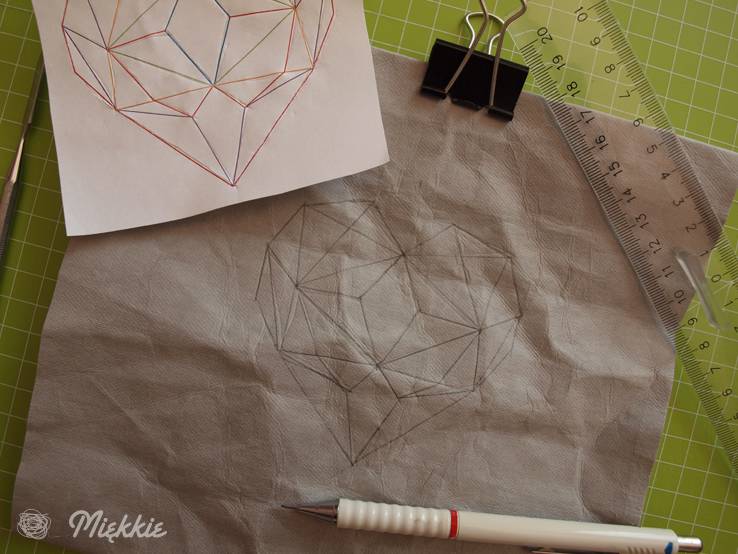 7. Po kolei szyj każdy kolor linii. Zacznij od obrysu, potem wyszyj środek. Wzór powieś sobie w widocznym miejscu, łatwiej będzie tobie wyszyć skomplikowane linie. / Sew each color line, one by one. Start from the outline, then sew center. Pattern hang in a visible place, it will be help you to sew intricate lines.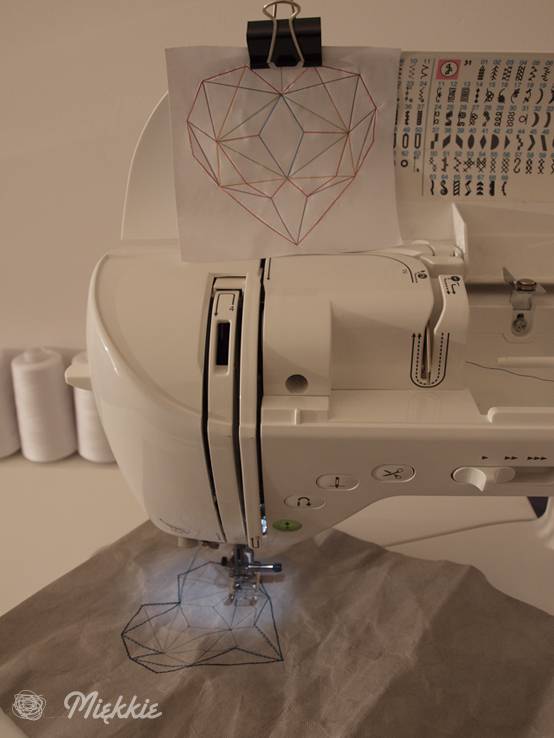 8. Możesz użyć różnych kolorów nici, a rysunek po przeszyciu powinien wyglądać tak jak na zdjęciu. / You can use different colors of thread, and drawing the stitch should look like on the picture.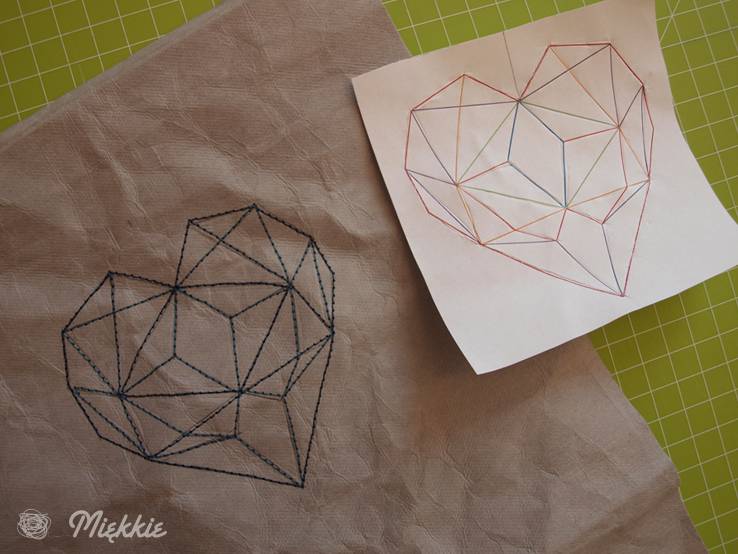 10. Przykładam zamek prawą stroną do prawej strony papieru, w miejscu zagięcia. Przeszywam, jeden i drugi brzeg. / Place zipper right side to right side of the paper, at sew. I make the same with both side of zipper.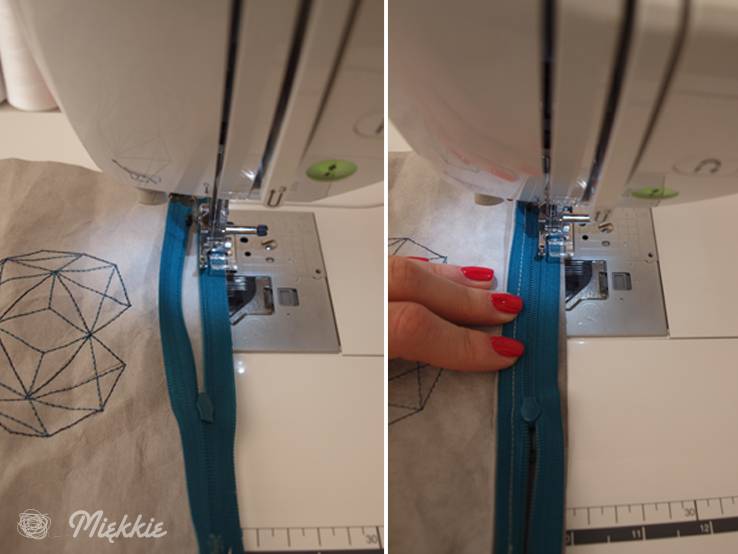 11. Po przeszyciu zamka, kosmetyczka powinna być odwrócona na lewą stronę. Wówczas przeszywam dłuższy brzeg ok 1 cm od krawędzi. W tym momencie, morzesz wszyć też "uszko" do breloczka lub smyczy. "Uszko" wkładamy do środka kosmetyczki, przeszywając jego brzeg razem z brzegiem torebki. Miejsce wszycia "uszka" widać na zdjęciu przy moim palcu :) / After sewed the zipper, vanity bag should be reversed to the left side. Then sew the long edge 1 cm from the long edge. :)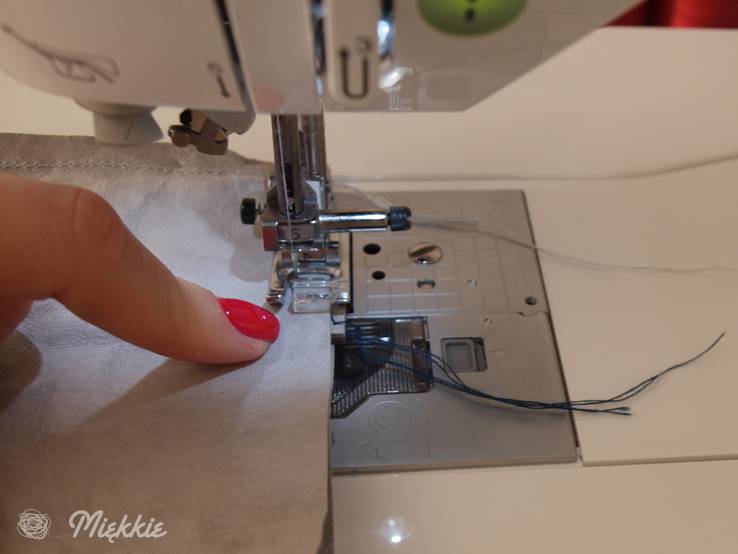 12. Wciąż szyjąc po lewej stronie zginam kosmetyczkę tak, aby jej podstawa ułożyła się w kształt wrzeciona. / Still sewing on the left side of the vanity bag, I squeeze the bottom to make a shape of a spindle.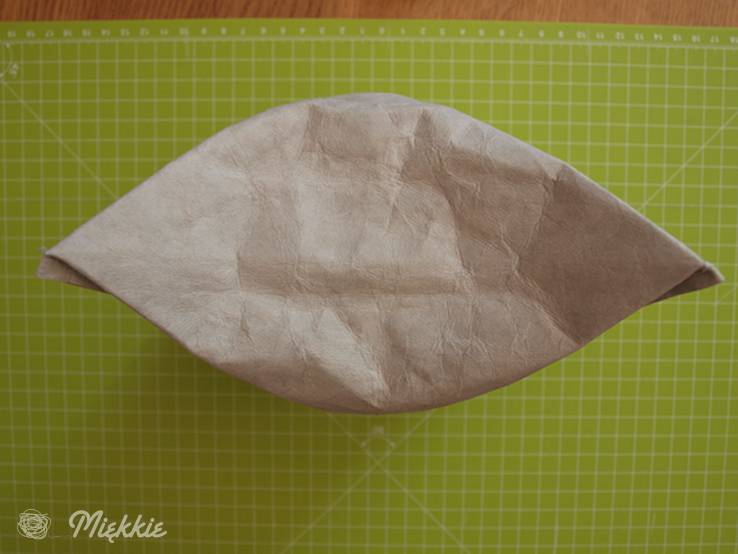 13. Brzegi torebki powinny układać się w ten sposób. / The edges of the bag should be arranged in this way.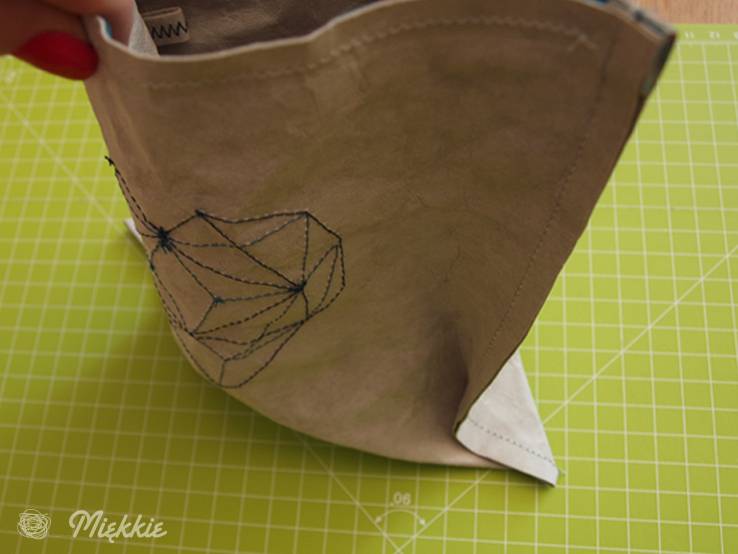 14. Przeszywam rogi ok 2 cm od brzegu. / Sew the corners about 2 cm from the edge.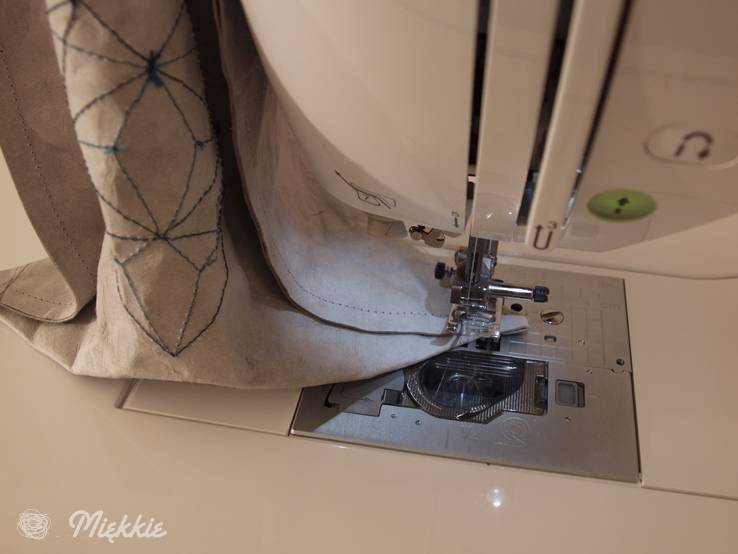 15. Odcinam rogi zostawiając ok 0.5 cm zapasu przy szwie. / Cut the corners, leaving about 0.5 cm free place near to the seam.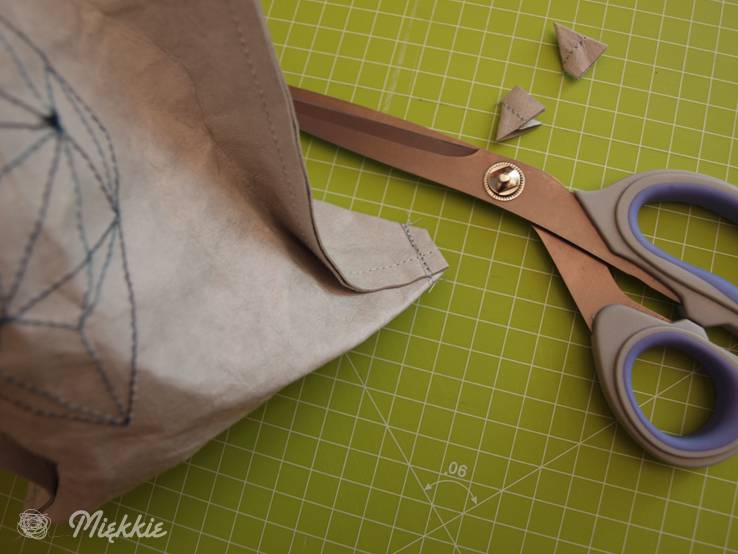 16. Tak wygląda skończona kosmetyczka. Pod spodem porównanie, Washable Kraft Paper jeszcze nie przygotowanego do szycia i uszytej z tego materiału kosmetyczki. / So the vanity bag is finish. On the photo you can find comparison of Washable Kraft Paper has not yet prepared for sewing and sewn with this material bag.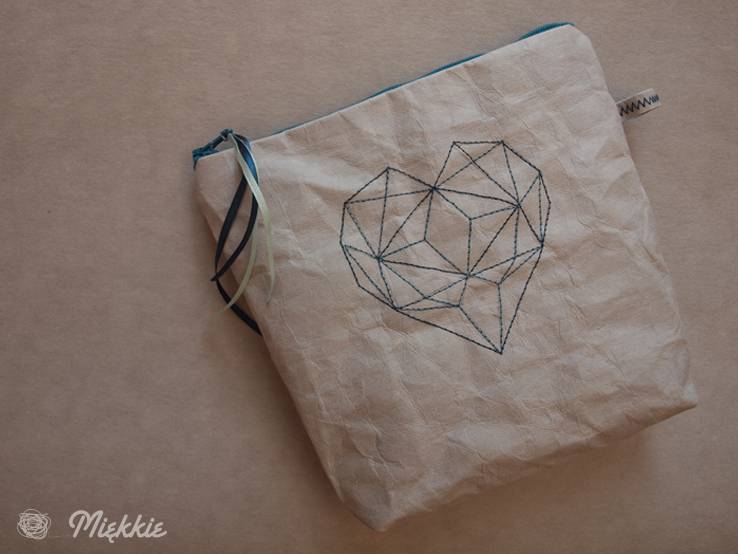 Poniżej kilka zdjęć w akcji. Kosmetyczka sprawdza się świetnie. Jest bardzo wytrzymała i pojemna. / Below are some pictures in action. Vanity bag works great. It's very durable and roomy.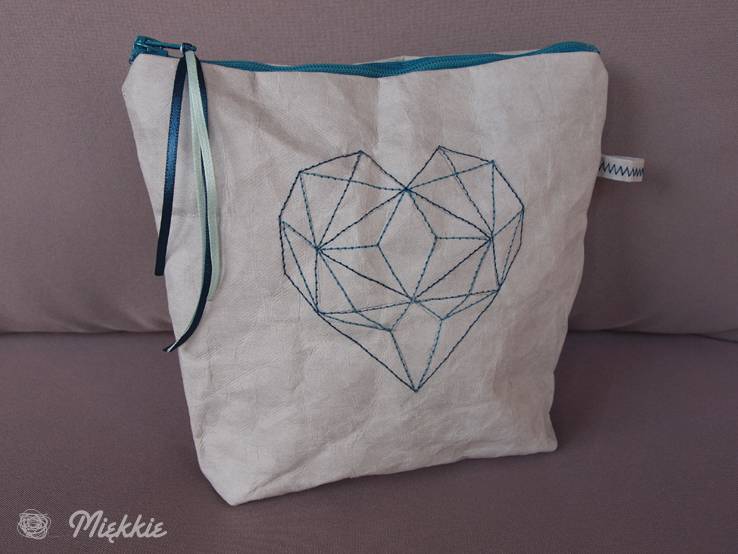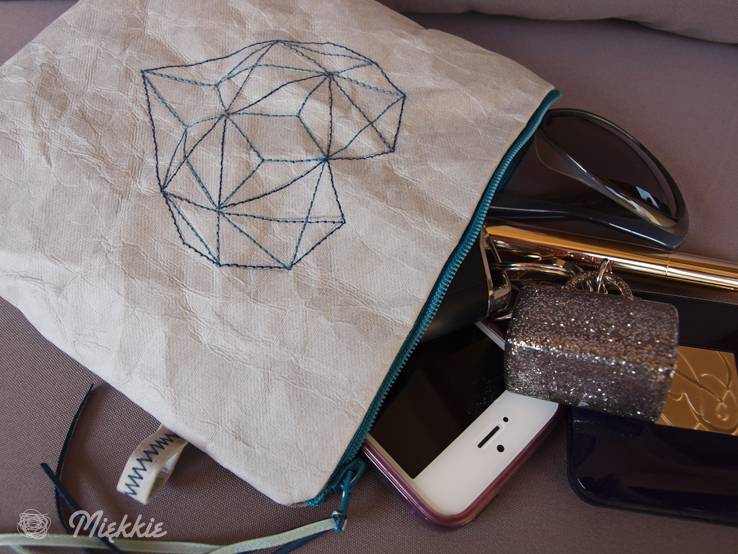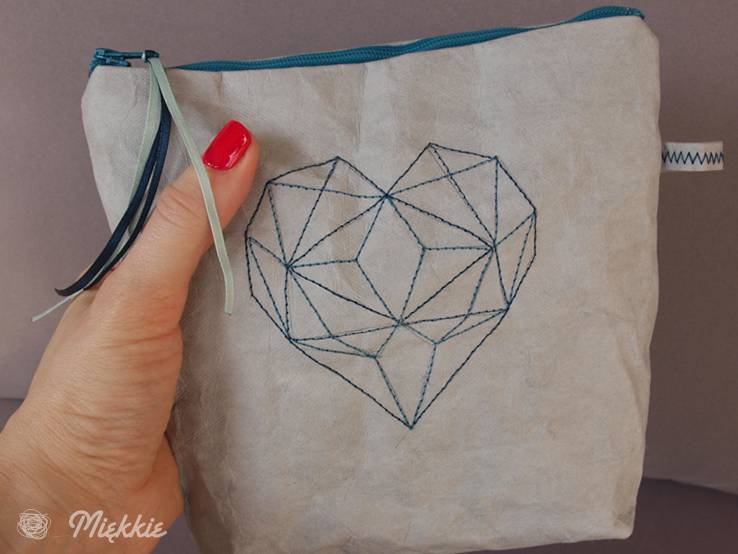 Mam nadzieję, że zachęciłam Was do eksperymentowania z tym nowym tworzywem. Efekty naprawdę są świetne.
Jeśli macie jakieś pytania, to piszcie.
Żegnam się teraz w Wami, życząc udanych kreatywnych odkryć :)
I hope you like that tutorial, and start to experiment with this new material. The effects are really great.
If you have any questions, please write.
Good-bye, I wishing you a successful creative discoveries :)
© Copyright by Aga Pyl