Polish: 
Gdy zobaczyłam wykrój na letnie szorty na stronie Pattydoo wiedziałam, że muszę je uszyć. Nie istotne było to, że wykrój występuje tylko w języku niemieckim, którego nie znam. Nie mogło mnie nic powstrzymać, bo jak tu nie skorzystać z tak uroczego i kobiecego kroju, który w dodatku jest za darmo.
O wykrojach Pattydoo, pisałam Wam w poprzednim poście o bluzie zwanej pomyłką. Bardzo Wam polecam te wykroje, są bardzo dobrze opracowane, czytelne, niedrogie, a w niektórych wypadkach towarzyszą im filmiki instruktażowe na YouTube'ie. W szyciu spodenek również bardzo pomoże Wam załączony na stronie filmik instruktażowy.
Gdy powstała moja wersja sppodenek, o ich mniejszą wersję upomniała się moja córka. Nie mogłam jej odmówić. Bliźniacze spodenki do jazdy na wrotkach dla mamy i córki :) to doskonały pomysł i pretekst do wspólnie spędzanego czasu, na wspólnej pasji i w podobnym outficie.
Nie mogłam nigdzie znaleźć podobnego wykroju spodenek, w wersji dla najmłodszych. Postanowiłam więc darmowy wykrój na spodenki dla matki i córki, z bloga Sewing Rabbit przerobić i dodać do nogawek wykończenie w finezyjne łuki. Jak to robiłam opiszę poniżej.
English:
When I saw the pattern for summer shorts on Pattydoo website. I knew I had to sew them. No matter was that the pattern is only in the German language, which I do not know. Could not stop me nothing, because how can you not take advantage of such a charming and feminine pattern, which in addition for free.
About Pattydoo patterns, I wrote you in the previous post about the sweatshirt called a mistake.
I recommend you these patterns, are very well developed, clear, inexpensive, and in some cases companion them instructional videos on YouTube'ie. For sewing this shorts also really help you video tutorial.
When my shorts was ended, for smaller version asked me my daughter. I could not refuse her. Twin shorts for roller skating for mom and daughter :) is an excellent idea and an excuse to spend time together with shared the same passion and a similar outfit.
I could not find a similar pattern for shorts for children. So I decided to used free pattern for shorts, for the mother and daughter from the blog Sewing Rabbit. Modify them and add to the leg finish in subtle bows. As I did this, I describe below.
1. Odrysowałam wykrój spodenek w odpowiednim rozmiarze i dodałam do nogawek 4 cm zapas. To będzie to miejsce gdzie w spodenkach będą łuki. Gdybyśmy tego nie zrobili, nogawki okazałyby się za krotkie do wszycia takiego wykończenia. / I draw the pattern shorts on a paper in right size and added to the legs 4 cm stock. This 4 cm will be the place where the shorts have a bows. If this is not done, the legs turn out to be too short for such a sewing finish.
2. Spodenki z bloga Sewing Rabbit mają szwy boczne. Nie chciałam ich robić. Dlatego obie części wykroju skleiłam razem. / Shorts from Sewing Rabbit blog have sides seams. I did not want make it. Therefore, I combine the two pattern pieces together.
3. Odrysowałam wykrój na podwójnie złożonej tkaninie. / Draw the pattern for the double-folded fabric.
4. Odrysowałam linię dolną nogawki na podwójnie złożonej tkaninie ( Pamiętajcie linia dolna nogawek szortów nie zawsze jest linią prostą! ) dodałam do niej 4 cm wysokości (możecie dodać więcej) To będzie nasze podłożenie. / I draw the bottom line leg for the double-folded fabric (Remember, the bottom line of the shorts legs is not always a straight line!), I add to it 4 cm high (you can add more) This will be our lining pieces.
5. Obrzuciłam na overlocku boczne krawędzie nogawek i górną krawędź podłożenia. / Sewing by overlock the sides of the legs and the upper edge of the lining.
6. Przypiełam do dolnej krawędzi nogawek podłożenie, obrzuconą na overlocku krawędzią ku górze. / Pinning to the lower edge of the legs linings.
7. Teraz przygotujemy szablon łuków. Skladamy wykrój spodenek bocznymi krawędziami do siebie, na pół. Po obu bokach pozostawiamy, ok 0,8 cm na szew. Pozostałą szerokość nogawki dzielimy na równe odcinki. To będą średnice naszych łuków, które wyznaczymy za pomocą cyrkla. / Now we prepare a template for bows. To fold shorts pattern sides to each other in half. On both sides, leave about 0.8 cm on the seam. The remaining width of the leg wight is divided into equal sections. It will be the diameter of our bows, which will be calculated using a calipers.
8. Za pomocą cyrkla narysowałam na wykroju łuki i wyciełam je. / Using a calipers draw on the pattern bows and cut them.
9. Odrysowałam łuki na podłożeniu. / I draw bows on lining.
10. Przeszyłam łuki na maszynie. / I sew the bows on the sewing machine.
11. Po przeszyciu naciełam łuki najbliżej środków, oraz zrobiłam nacięcia wzdłuż krawędzi, tak jak pokazują linie na zdjęciu. / After sewing cut bowes closest to the resources, and make incisions along the edge, as shows the lines in the picture.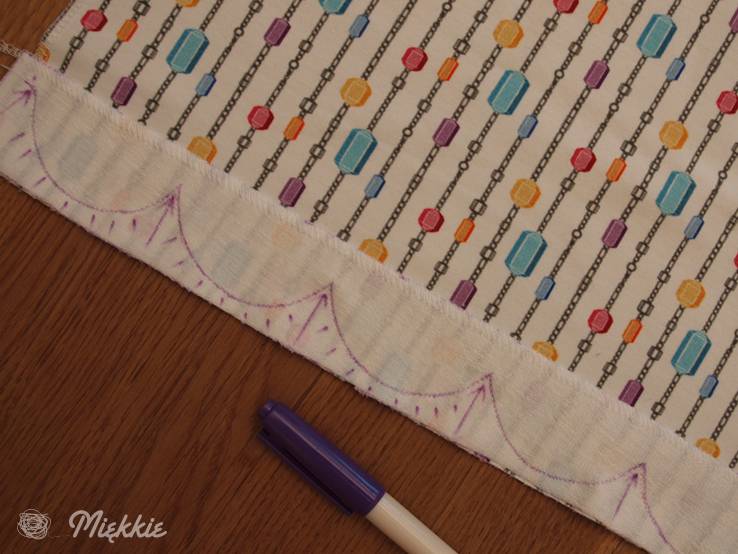 12. Obciełam nadmiar materiału i przekręciłam na prawą stronę. / Cut excess fabric and turn our legs to the right.
13. Zaprasowłam podłożenie. / Iron our lining.
14. Spiełam i przeszyłam środek nogawek. / I pin and sew the center of the legs.
15. Włożyłam nogawki jedna w drugą, prawą stroną do prawej. Spiełam i przeszyłam krok. Dzięki wcześniej obszytym brzegom, spodenki od razu wykończone są ładnie od środka. / I put one legs to the other, right sides. Pin and sew the crotch.
16.  Nasze spodenki są już prawie gotowe. Wystarczy jedynie wszyć pas i wciągnać w niego gumkę. / Our shorts are almost ready. Simply sew belt and pull in to rubber.
Po wszyciu paska, podłożyłem podszycie ściegiem krytym ręcznym. To koniec, spodenki gotowe.
Mam nadzieję, że przyda się Wam, mój sposób na wykańczanie odzieży łukami, bo sposób ten można zastosować również do wykańczania sukienek, czy spódnic. Darmowe linki do wykrojów na spodenki myślę, że też będą pomocne. :)
Pozdrawiam Was bardzo gorąco! My wybieramy się na wrotki.
After sewed the belt, I sew lining by blind hand stitching. It's the end, shorts is ready.
I hope my tips are useful for you. You can finishing by bows, another types of garments, because this method can also use for finishing dresses or skirts. Free links to patterns for shorts it will be helpful too. :)
Warm greetings! We're going on roller skates.
© Copyright by Aga Pyl