Polish: 
Hej, hej wszystkim :)
Po małej przerwie wakacyjnej wracam do Was z kilkoma inspiracjami :)
Temat prosty, banalny i na naszą obecną wrześniową pogodę idealny. Spodnie i bluzka.
Niby dni są jeszcze ciepłe i pogoda nas rozpieszcza, ale poranki bywają już chłodne. Dlatego postanowiłam się zaopatrzyć w spodnie bawełniane i bluzeczkę która jest tak uniwersalna, że chodziłam w niej w upalnym sierpniu i teraz.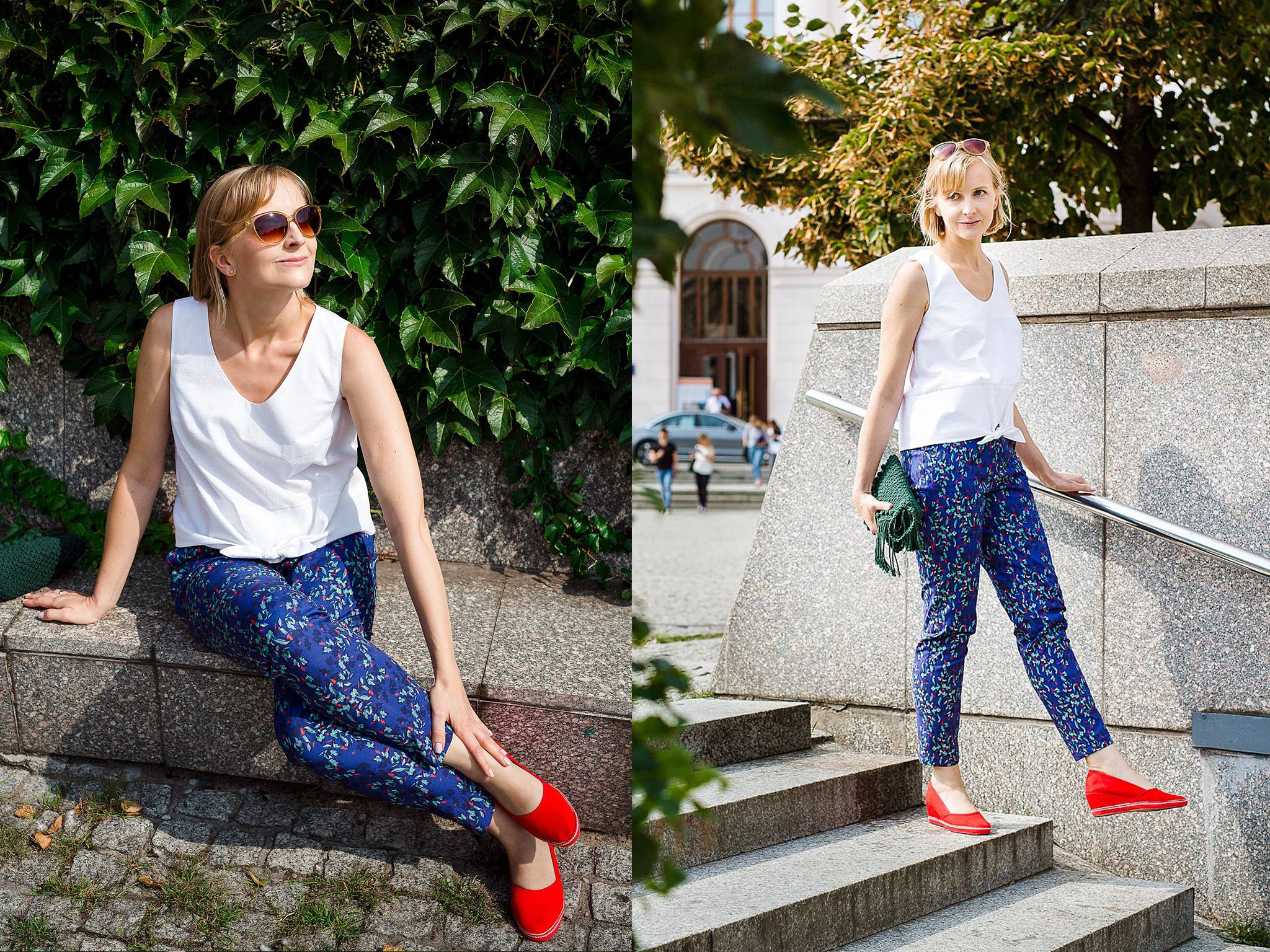 Wykrój na spodnie pochodzi z Burdy nr 10/2013 #127A. Uszyłam je z fantastycznej bawełny z elastanem w drobny kwiatowy wzór. Tkanina ta jest niezwykle wygodna w noszeniu. Elastan sprawia, że idealnie dopasowuje się do sylwetki, nie jest za gruba, wręcz idealna na obecne temperatury. Wykrój łatwy do odszycia, naprawdę uszycie spodni z rozporkiem nie jest takie trudne. Jest jedno ale,...spokój, precyzja i fastryga. Dacie radę :)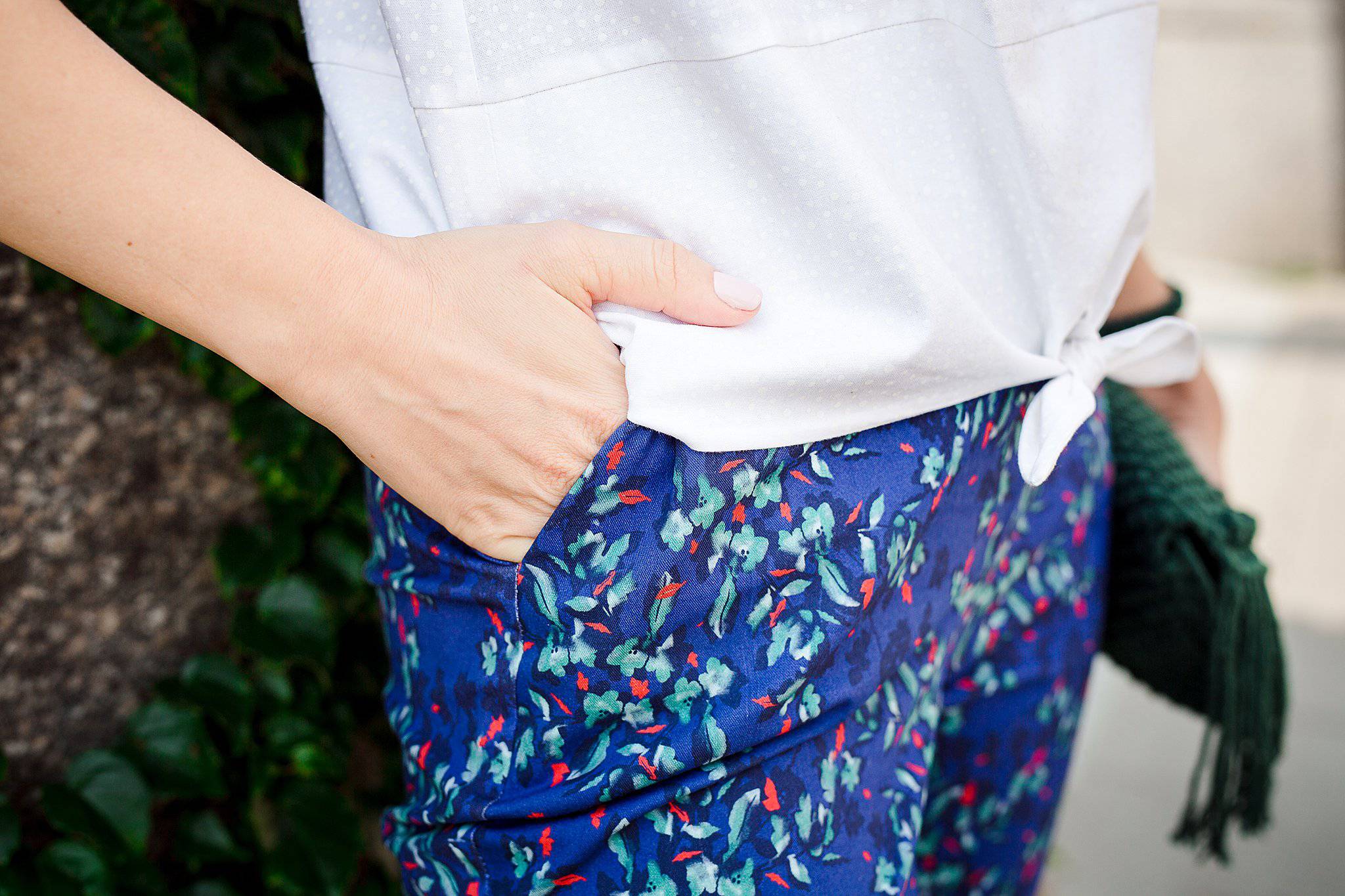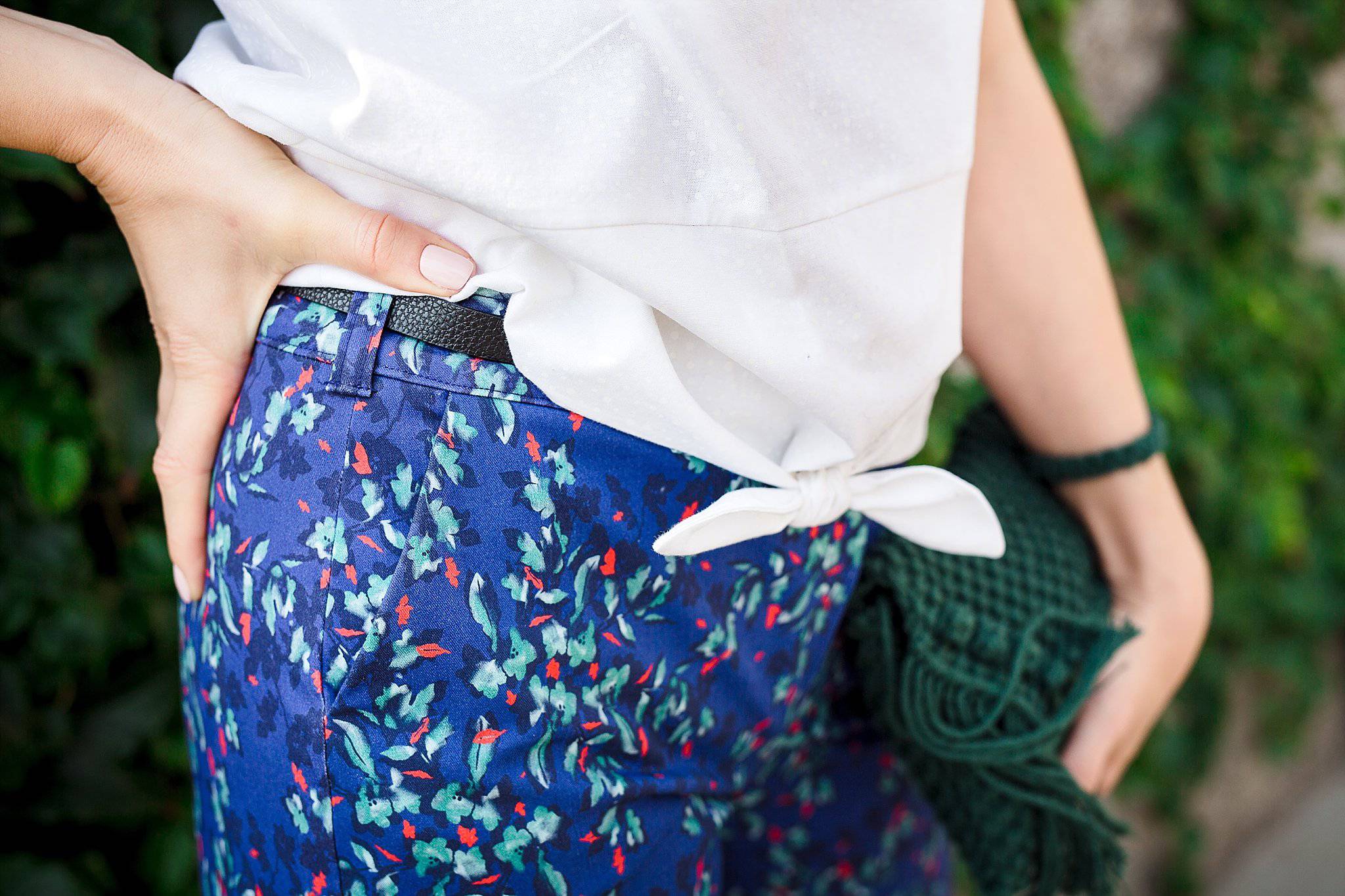 Do swoich spodni dodałam szlufki na pasek mimo, że nie ma ich w wykroju. Nie chodziło tylko o detal. Po prostu lubię spodnie nosić z paskiem.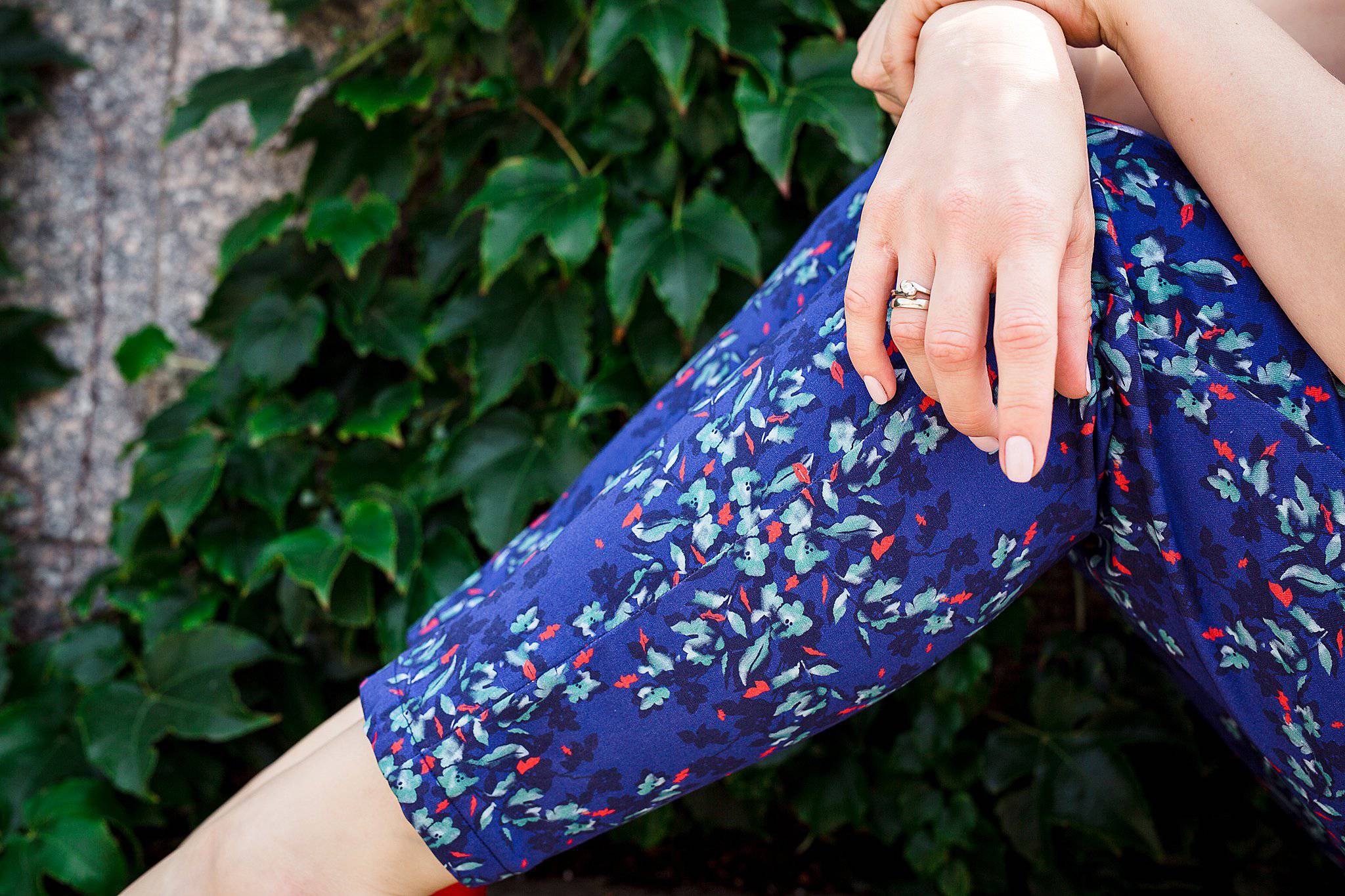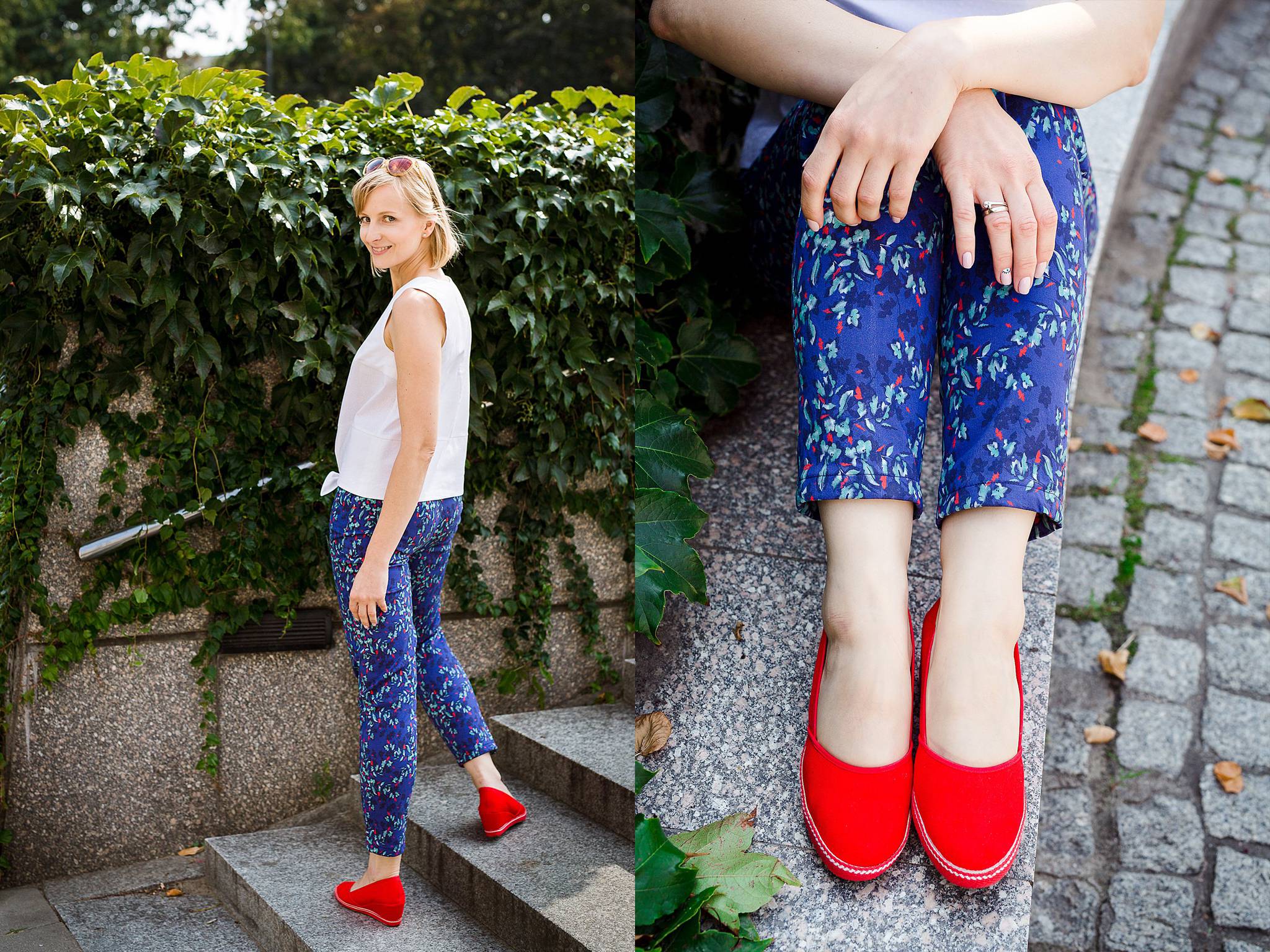 Na tą bluzkę i tą tkaninę czaiłam się od dawna. Skorzystałam z super prostego wykroju Jily redy to sew, bardzo go Wam polecam. Do uszycia bluzki wybrałam białą bawełnianą tkaninę Camelot z kolekcji Mixology. Tkanina ta ma wzór w drobne białe kropeczki. Detal niezwykle uroczy, nie jest oczywisty, taki niby jest, a go nie ma.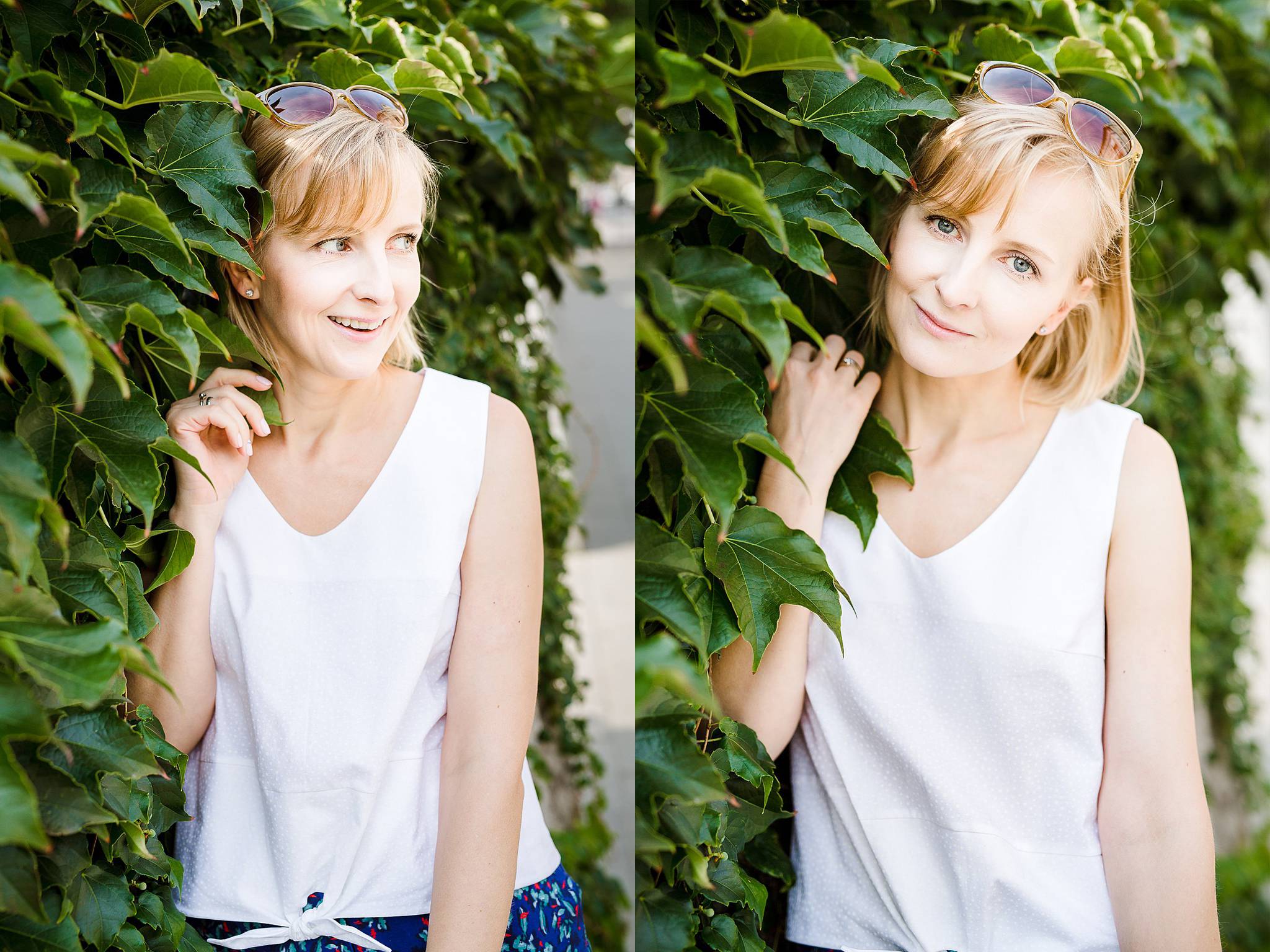 Wykrój z którego skorzystałam można uszyć zarówno z wiązanym ozdobnie dołem jak i bez tego detalu. Bluzka wykończona jest odszyciem, a dół szerszą podkreślającą nieco geometryczny charakter wykroju plisą.
BLUZKA
Był to koszt 37,50 zł
SPODNIE
Był to koszt 66,30 zł
Myślę, że za całość włącznie z kupnem suwaka i guzika do spodni nie zapłaciłam więcej niż 120 zł.
Buty pochodzą z szafy mojej mamy i mają chyba 30 lat. Torebkę z makramy zrobiłam sama.
Napiszcie mi proszę, czy jest coś co szczególnie chcielibyście abym Wam pokazała, albo coś co szczególnie z jakiejś tkaniny, lub dzianiny z Miękkie chcielibyście abym uszyła.
Do zobaczenia Pa!!!
© Copyright by Aga Pyl