Polish: 
Wakacje. Oj tak, powoli już myśle tylko o wakacyjnych stylizacjach. Miałam mały przedsmak wakacyjnego klimatu, podczas mojego pobytu na Okinawie. Wiedząc, że się tam wybieramy, nie mogłam nie uszyć sobie sukienki :)
Takiej, której nie trzeba by było prasować. Takiej w której można iść na plażę, ale i do miasta.
Jersey 200g z Miekkie spełnił wszystkie warunki. Nie gniecie się i nie trzeba o niego zbytnio dbać w podróży.  Dwa kontrastowe kolory oberżyny i śliwki sprawiły, że poczułam się naprawdę jak na wakacjach. Muszę dodać, że tak jak kolor oberżyny z Miekkie, zawsze uwielbiałam, to śliwka nigdy do mnie nie przemawiała. Jednak w tym duecie, moim zdaniem zagrała idealnie.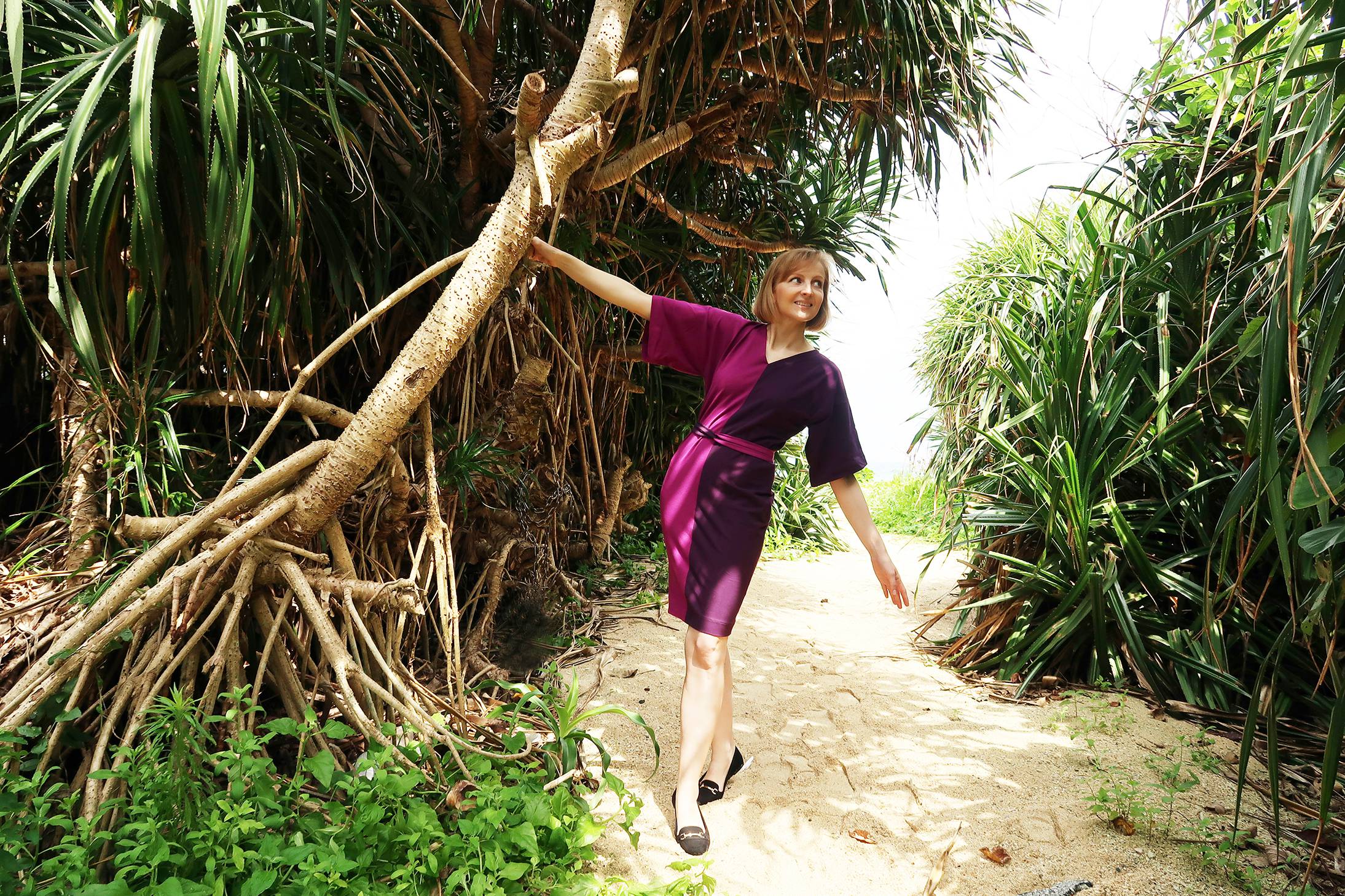 Tak powstała prosta sukienka z kimonowym rękawem według wykroju MimiG
Wykrój jest płatny, a instrukcja jest w postaci filmu. Sukienkę pod własne wymiary, trzeba samodzielnie skonstruować. Konstrukcja jest bardzo prosta, a instrukcja czytelna, więc naprawdę polecam.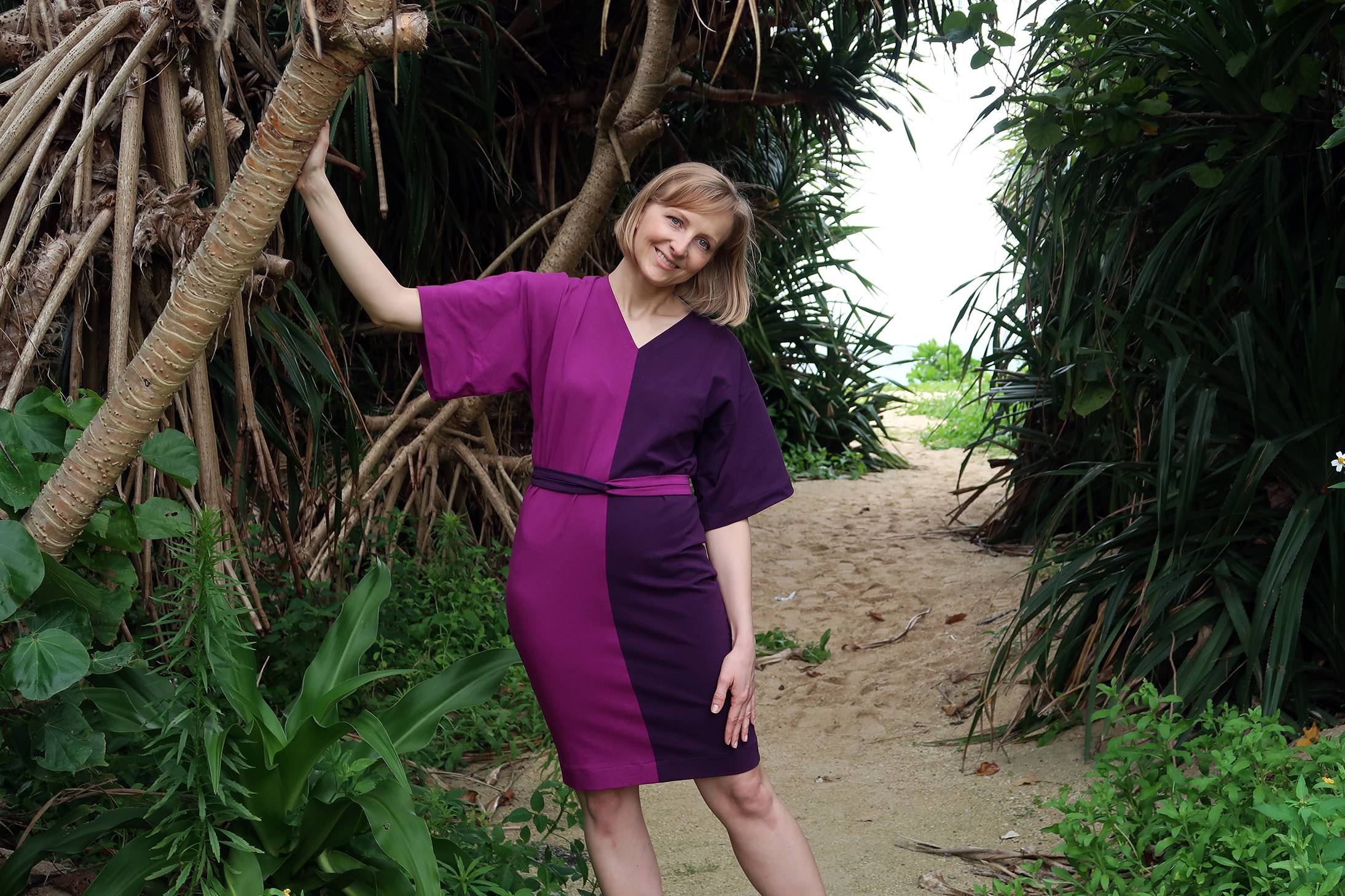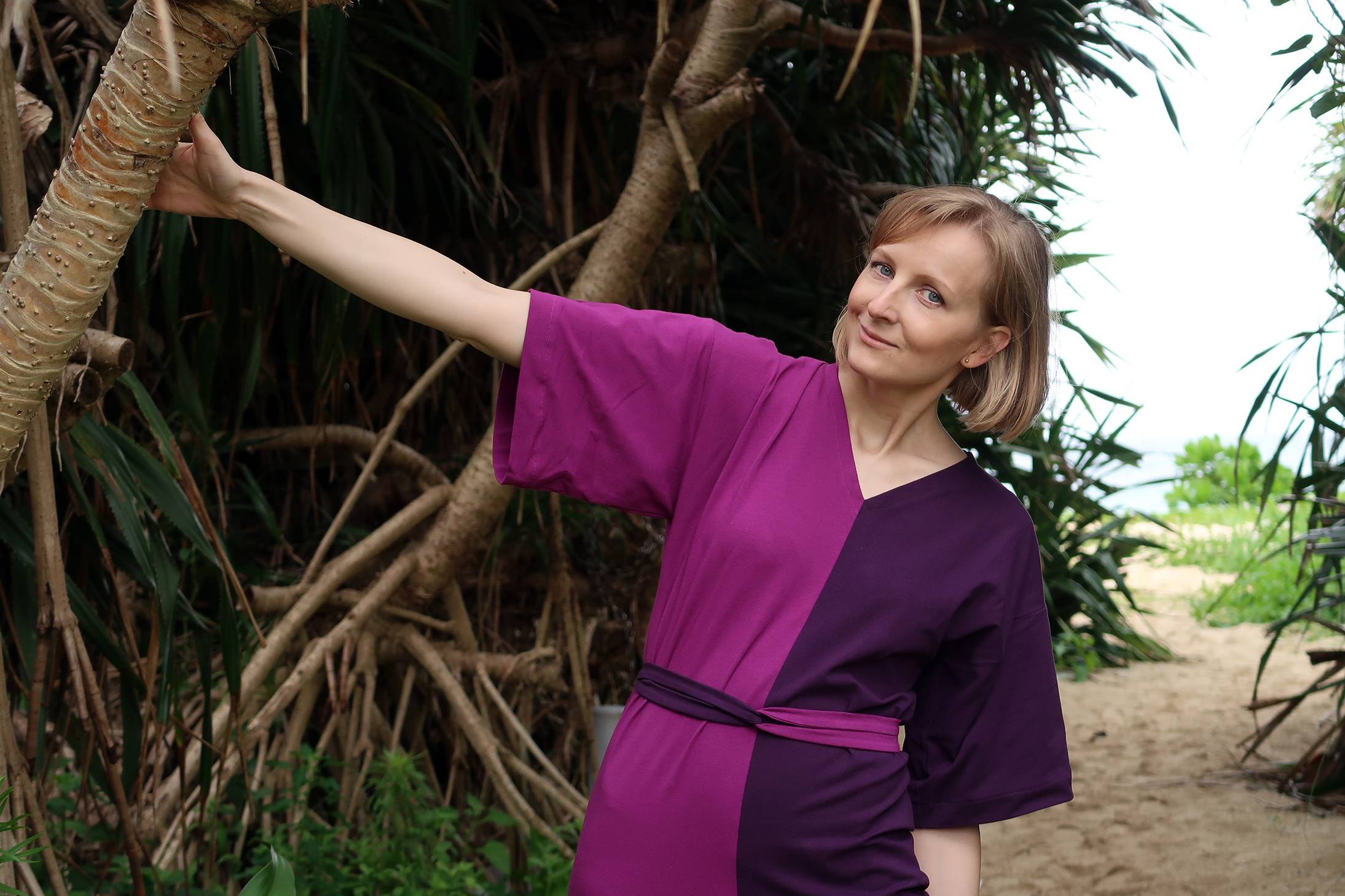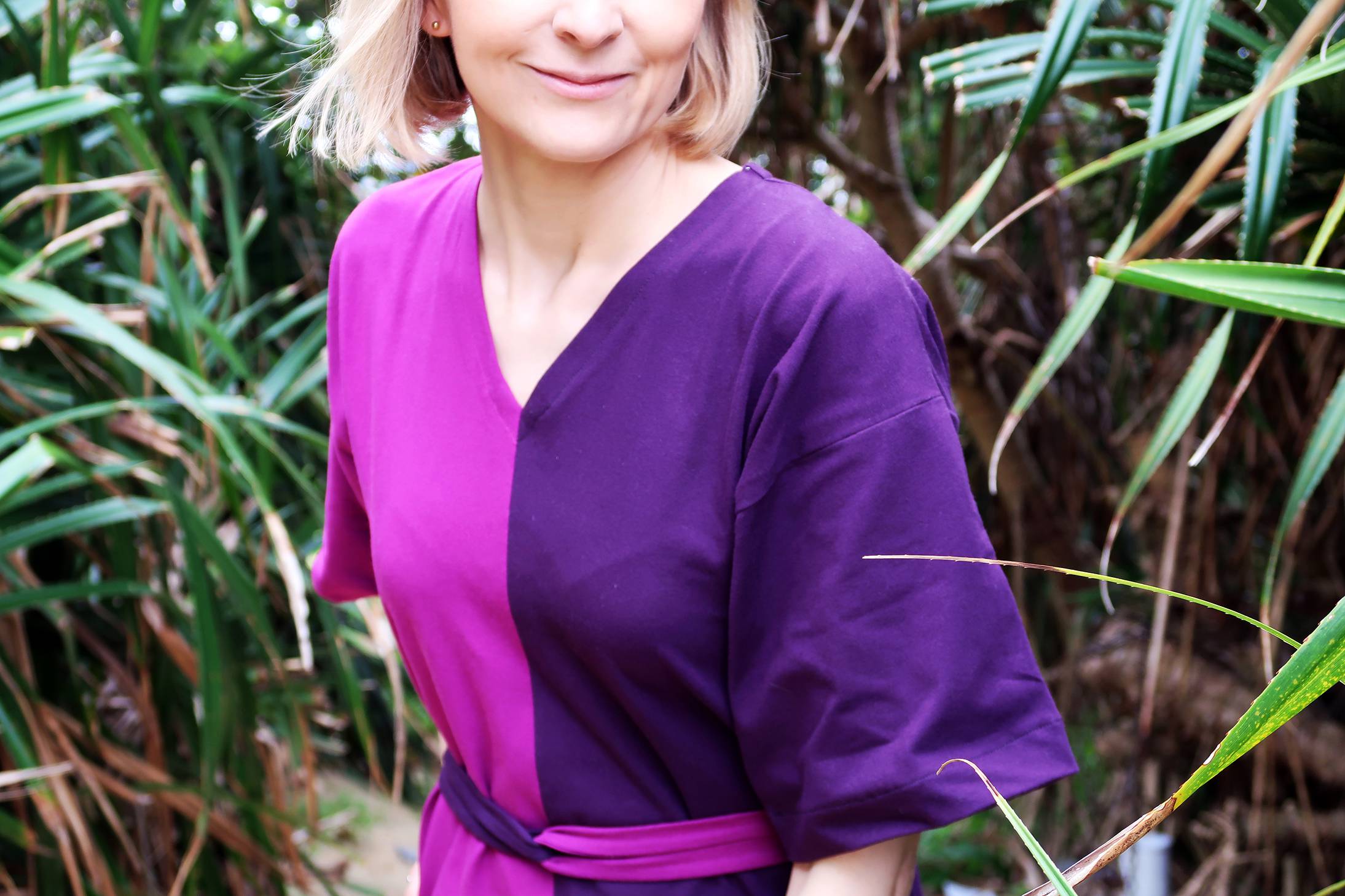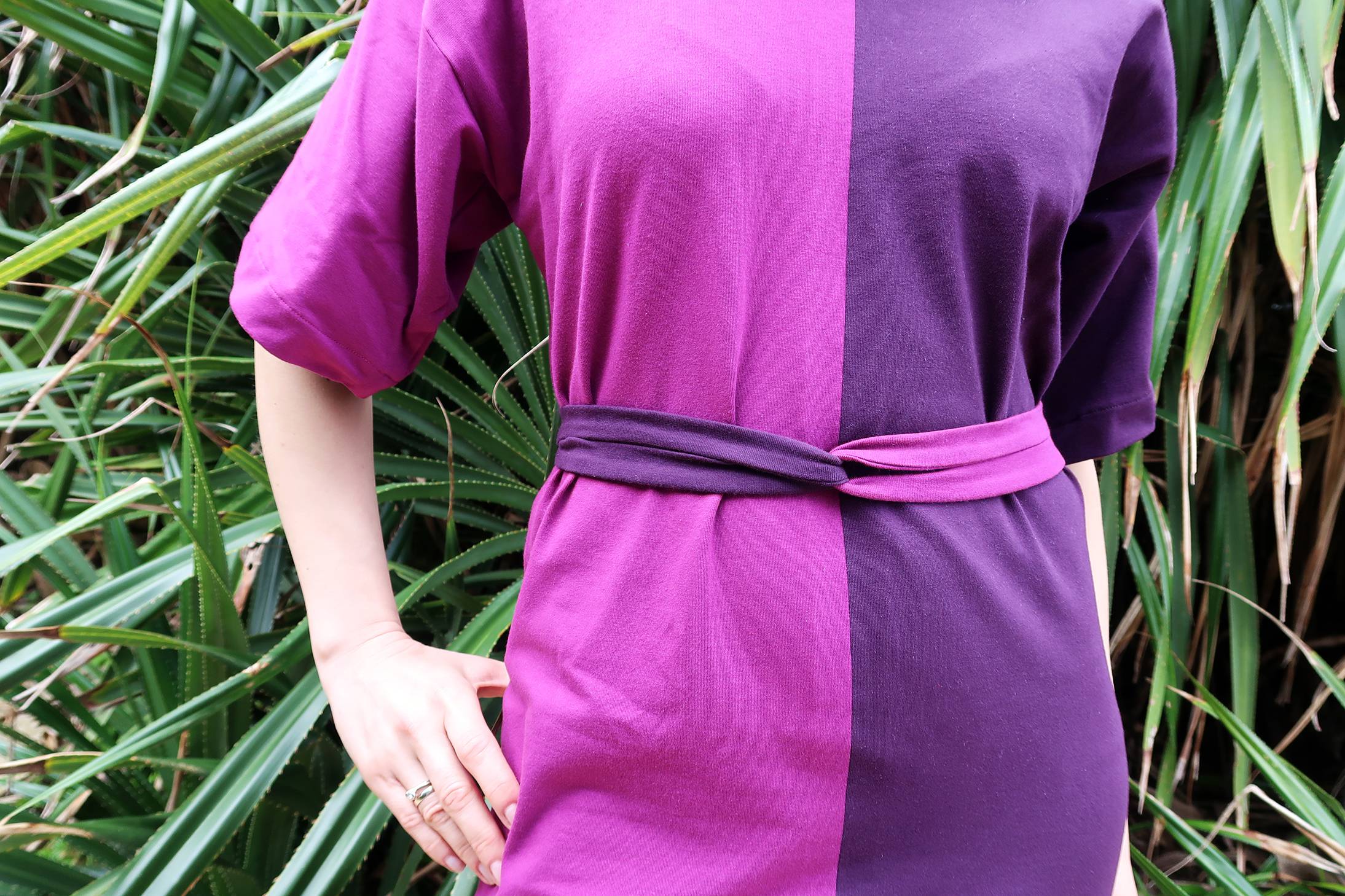 Do sukienki zrobiłam prosty pasek z dwóch kolorów dzianiny. Prosty długi prostokąt przepleciony z przodu i zawiązany na plecach fajnie podkreśla talię. Zawsze wiążę go, układając kolory przeciwstawnie.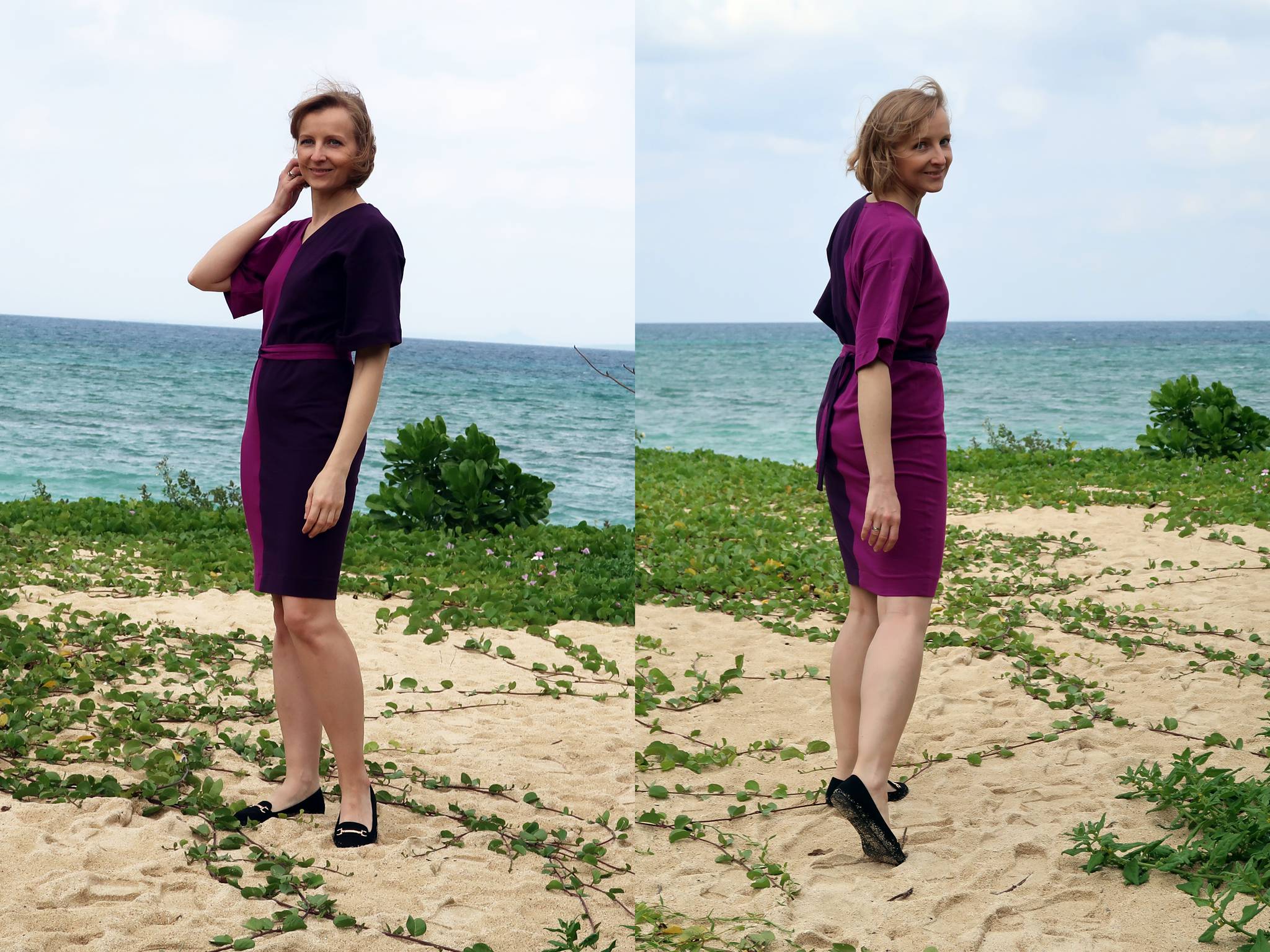 To w zasadzie wszytko. Sukienka sprawdziła się w 100%. Z resztek które mi zostały powstanie pewnie mini wersja dla córki, bo z szerokości dzianiny która ma 180 cm, spore kawałki, zostaną Wam na inne projekty.
Zachęcam Was do zabaw kolorystycznych dzianinami z Miekkie. Jest ich tak dużo, że ciężko się zdecydować. W wyborze właściwego koloru może pomóc Wam próbnik dzianin. Kupicie go TU Mała rzecz, a korzystam z niej bez przerwy.
SUKIENKA
To co gracie w kolory? Jakie są Wasze ulubione zestawienia kolorystyczne?
Aga
© Copyright by Aga Pyl