Polish: 
Władca Pierściona.
To opowieść, która w naszej rodzinie pojawia się raz po raz, wywołując w nas nieskrępowany uśmiech i masę ciepłych wspomnień.
Laura, moja córka to typowa kobieta. Taka z krwi i kości, kobieca do bólu odkąd pamiętam.
Gdy w dniu swoich trzecich urodzin wpadła mi w ramiona radośnie krzycząc: mamo, mamo, dostałam od Miry pierścion. Wiedziałam, że to specyficzne, kobiece postrzeganie świata, nie ulegnie zmianie już nigdy. :)
Pierścion dany jej przez ciocię Mirę, okazał się delikatnym i małym pierścioneczkiem z turkusowym oczkiem. Radość z niego była jednak tak ogromna, że w oczach Laury przybrał rozmiary pierściona. Każdy ma jednak taki pierścion, na jaki sobie zasłużył. ;)
Tak jak myślałam mój coraz większy władca pierściona, po uszyciu dla niej sukienki w duże diamenty, potrzebował doprecyzowania swojej osobowości. Jak wiadomo, ubraniem wyrażamy siebie.
Postanowiłam, zrobić prosty szablon nawiązujący do pojawiających się w tle diamentów. Coś co mogłoby dodać sukience, charakteru i trochę niepokornego sznytu.
Powstała prosta grafika, w formie uproszczonego pierścionka z mega dużym kamieniem i podpisem RING, BLINK, BLINK.
Grafikę do wycięcia szablonu, możecie pobrać w poniższym linku.
Miło mi będzie jak będziecie się nią dzielić za pomocą bezpośredniego linka do bloga.
A teraz sposób wykonania i co będzie nam potrzebne by zrobić dzicku na ubraniu, taki lub inny rysunek.
English:
Lady of the Rings.
It is a story that our family comes up time and time again, causing us uninhibited smile and mass of warm memories.
Laura, my daughter is a typical woman.
When she had her third birthday, after my work she fell into my arms joyously shouting: Mom, Mom, I got big ring from Mira's. I knew it was special, feminine view of the world will not change anymore. :)
Big ring given by her aunt Mira, was delicate and small ring with turquoise stone. However the joy of it, was so great that in the eyes of Laura took big sizes.
Just as I thought my growing Lady of the ring, when I sew dress for her, with large diamonds, needed to clarify her personality. As you know, the clothes express ourselves.
I decided to make a simple template referring to appearing in the background diamonds. Something that could add dress, a little bit rebellious flair.
I drew simple graphics with simplified ring with mega large diamond and editorial: RING, BLINK, BLINK
Graphics to cut out the template, you can download at the link below.
I'm glad to be, taht like you to share it with a direct link to the blog.
Now, how to make clothes with big ring graphic.
1. Będziemy potrzebować / What we need:
koszulki, sukienki lub innej części garderoby, którą chcemy za pomocą szablonu ozdobić / T-shirts, dresses or another clothes
maty do cięcia / cutting mat
nożyka z wymiennym ostrzem / knife with replaceable blade
linijki / the ruler
flamastra do tkanin ( ja użyłam flamastar marki Textile Art) / marker for fabric (I've used pen brand Textile Art)
taśmy klejącej / tape
dwóch kartek grubszego papieru A4 ok 250g/2 jednej czystej, drugiej z wydrukowanym wzorem na szablon / two sheets of thicker paper A4 approximately 250g / m2 plane one, and the other with a printed pattern template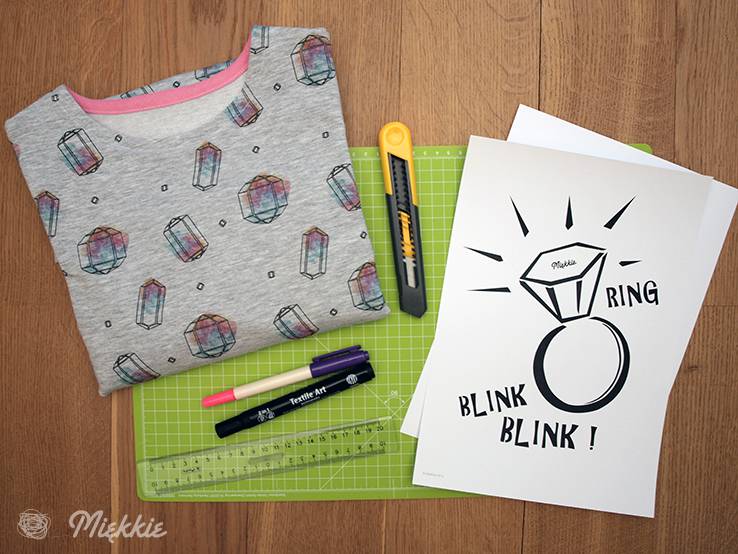 2. Za pomocą nożyka wycinamy ostrożnie wszystkie czarne elementy rysunku. Linie proste możemy wyciąć pomagając sobie linijką.
Using a knife carefully cut out all black drawing elements. Straight lines can be cut out helping each by ruler.
3. Pomiędzy tył i przód koszulki włóż czystą kartkę papieru A4.
Between the back and front t-shirts insert a blank sheet of A4 paper.
4. Na wierzchu w rogach przyklej taśmą klejącą szablon do przodu koszulki.
At the top, put the pattern and place it on the each corner by tape.
5. Tak jakbyś stemplował, precyzyjnie i cierpliwie wypełnij otwory flamastrem.
Stamped, precisely and patiently fill all holes by pen for textile.
6. Nie bój się, że pobrudzisz karton. Wlaśnie o to chodzi, aby nadmiar farby, został na kartce. Wówczas rysunek na tkaninie będzie równy i prosty.
Do not be afraid that paper will be dirty. That's just it, that excess paint was on the sheet. Drawing on the fabric will be clear and nice.
7. Tak powinien wyglądać rysunek po zdjęciu szablonu. Jeśli widzisz jakieś niedoskonałości, za pomocą flamastra, możesz je delikatnie poprawić.
The draw should look like on photos after removing the template. If you see any imperfections, you can using a marker, and make correct.
8. A, to powód dla którego należy pomiędzy tył i przód ubrania włorzyć czystą kartkę papieru.
Flamaster do tkanin, jak i farby mogą przebijać na drugą stronę, aby nie pobrudzić drugiej strony ubrania, koniecznie jest zabezpieczenie jej kartką papieru.
And, the reason for which must be between the front and rear of clothes blank sheet of paper.
Pen for fabric and paint can penetrate to the other side, the paper is necessary to secure your cloth.
9. Na koniec zaprasuj rysunek żelazkiem i możesz się już cieszyć, z własnoręcznie wykonanego wzoru.
At the end, iron the drawing and you can already enjoy with a homemade clothes.
© Copyright by Aga Pyl